In Our Care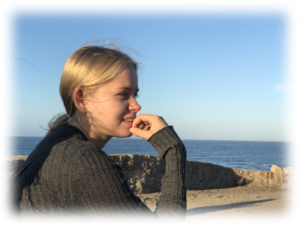 Julia Michaela Rantama
July 30, 1995 ~December 11, 2022
Julia Michaela Rantama, 27, passed away on December 11th, 2022, as a result of an automobile accident. Julia was born in Vantaa, Finland, on July 30th, 1995, and moved with her family to California in 2009.

As a young child, Julia was feisty in defence of what she felt was right and extremely loyal to her family, earning her the nickname "Pikku Myy" from the Moomin characters.

Upon entering grade school, Julia began to take a special interest in being with and caring for young children. This led to her regularly being welcomed to parties and events by adults with small children who knew her. She thus naturally formed a special bond with her younger sister and brother, ten and twelve years her junior, respectively, which remained throughout her life. She regularly volunteered to babysit them, and they were a frequent topic of conversation with her friends.

Julia was energetic, kind, a nature lover, funny, gritty, feisty, helpful, supportive, spiritual, and deeply passionate about life. Julia pursued collegiate and independent studies in nutrition, physical health, mental health, and spirituality. Through her work as a trainer and therapist, Julia enjoyed supporting and giving guidance to other people relating to exercise, food, mental health, self-respect, and love.

Already upon entering high school, Julia took an interest in sustainable living. As a freshman, she once admonished a friend who placed an empty recyclable bottle into a garbage can, forcing her friend to pick it out and place it into a recycling container. Her friend hesitated, as the garbage can was quite filthy, saying "it's only one bottle." Julia replied "if everyone thought like that, no one would recycle anything;" her friend retrieved the bottle. She once demonstrated to her friends and family that she could reduce all waste she produced in one month down to what she could hold in the palms of her hands. Julia ultimately became vegan, engaged in studies of sustainable agriculture and zero-waste programs, and became a vocal advocate for these ways of living. She succeeded in converting much of her family to a vegetarian lifestyle.

Julia demonstrated great physical abilities and a particular talent for karate as a young child and passionately continued a pursuit of Jiu-jitsu as an adult. This ultimately led to her pursuit as a physical trainer as an adult.

With her partner Bryan, Julia had plans to start a family in Santa Cruz, California, and was expecting their first child at the time of her passing.

Julia is survived by her brother Luca, sister Sara, sister Jenny of Finland, mother Titta Ahola, step-father Andrew Bright, partner Bryan Gerges, together with many cousins, aunts, uncles, and grandparents in California and Finland. She will be particularly missed by her aunt Petra, aunt Marianne, friend Halo, friends-of-family Viena and Eero Pohjakallia and Johanna and Bobi Nikolov.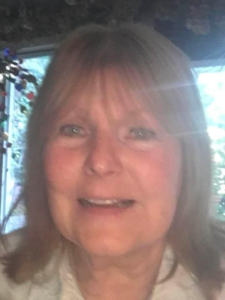 Barbara K. Martin
September 14, 1945 ~ December 20, 2022
Barbara died peacefully in her own home after battling Alzheimer's for 7 years. Born in Canton, Ohio she left home after high school to attend Bellview School of Nursing in New York City, graduating with honors In 1968 she took a short trip to San Francisco with a friend and never left the city by the bay. Although nursing was her profession, her true passion and expertise was business. She had a gift of starting up companies and making them thrive. Her first was the Meat Market coffee house in 1970, long before Starbucks. It boomed and was always crowded with variety of folks. After that some of her startup business's included Center Court Coffee at StonesTown Mall, joining the first "food court", San Fransisco State coffee concession (the first), Flat Iron Deli in San Rafael and Rainbow Home Care offering round the clock care to the elderly.
Her other interest included tending to her gardens, in ground and deck which she would work on for days Her thumb was very green. When not gardening her love was the kitchen where she loved cooking international favorites and was a natural born chef. She loved her cats. She was a mentor to many who wanted to learn business, and a second mom to those that needed one. She traveled to many countries including India, Africa, Pakistan, Italy, Yugoslavia (then), Spain, and others. She also drove the ALCAN highway to Alaska. They were always an independent venture, many with long time friend Frank.
Barbara had many friends through out many states and countries. People would gravitate to her and she hosted many parties with an eclectic group of folks. Always enjoyable times.
She was preceded in death by her mom Doris Martin, Dad Perry Martin, brother Jim Martin, and long time friend Sandy Overcasher She is survived by Carla Martin (sister in law), nieces, nephew and cousins, Frank Annicelli (long time friend), Sharon Tong Pierson (long time friend) Curtis Chan (first business partner) Ethyl Wolvovitz (New York), Gail Baker (50 yr friend) and many others who loved her carefree, social nature.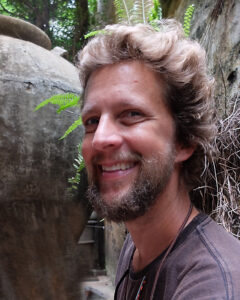 William Carl Bottger III
January 6, 1969 ~ December 10, 2022
William Carl Bottger III died at home surrounded by his family on December 10, 2022, in Larkspur, California. He was 53. Carl was born January 6, 1969, in Charlottesville, Virginia. Services will be held at noon on Tuesday Dec 20 at Fernwood Cemetery in Mill Valley.

In lieu of flowers, memorial contributions may be made to Carl's dear friends at 501-3C Foundation, The Jardin De Iglesia. Venmo Jeff Jenkins @JardinJourneys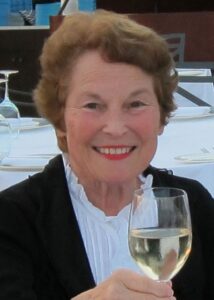 Crystal Ruskin Benbow
Crystal Benbow, beloved wife, mother, grandmother, sister, and aunt departed us at home on her final voyage surrounded by family, age 83. Crystal's earlier 19 cruises throughout the world and college graduation excursion took her to 58 countries and all seven continents. While Crystal enjoyed travel, the true love and focus of her life was family, especially grandchildren, Kristina, Alisha, Jack and Matt, sons and spouses, Tim & Teresa and Derek & Lisa, and husband, Bob.

Crystal was born to Lois and Jack Ruskin in Whiting, Indiana, joining sister Cynthia. She attended George Rogers Clark High School, class of 1957, played cornet in the band and became a pianist. At Purdue University she was a scholarship honor student majoring in sociology, a Boilermaker cheerleader, and a member of her cherished Kappa Alpha Theta sorority.

Upon graduation in 1961 she was employed at American National Bank and Trust Company, Chicago, first as a teller and then in the personnel office. It was the age of inter-office mail and one day she received a date invitation written on a beer coaster from soon-to-be-husband, Robert Benbow. Married May 4, 1963, their 59 years of love began. After allowing some time for the beginning of "travel", they relocated to Massachusetts in 1968, living in historic Concord for 21 years where they raised their two life-long Red Sox fans. A second relocation brought them to California, where Crystal lived the remaining 31 years of her life in Tiburon. In 1980, she segued into a decades-long office management career, on the East Coast at Millbrook Psychiatric Services and then Networks Family Counseling Service in San Francisco. A testimony to Crystal's care for "family" is that she insisted on personally driving cross-country from Massachusetts to California to join Bob because of her love for our Bichon Frisés. She did not want to risk Cotton and Brandy flying to the West Coast in the luggage compartment of an airplane!

The family especially wishes to thank Crystal's thoughtful and wonderful caregivers, Ane and Paulini. A memorial service will be held at Fernwood Funeral Home in Mill Valley on Sunday, December 18. In memory of Crystal, donations may be made to Kappa Alpha Theta, payable to: Alpha Chi Chapter Educational Foundation, P.O. Box 3754, West Lafayette, IN 47996.

Leslie Allen Thompson
February 14, 1947 ~ October 11, 2022
Leslie Allen Thompson died peacefully in her home with her husband and daughter at her bedside on October 11th, 2022. After a long and stoic battle with COPD, Leslie felt her time was near and was able to say goodbye to many of her dear friends and family.
Leslie was born a Valentine baby in Denver, Colorado on February 14, 1947 to Mary Lou and Jack Allen. She left Denver for Pitzer College in 1965 where she met Will in the neighboring Claremont dining hall. After Will's graduation, they married in Denver on August 12, 1967 and soon left for Virginia where Will began his U. S. Coast Guard service. Leslie pursued her college degree in Norfolk, Virginia; San Juan, Puerto Rico; and St Thomas, U.S. Virgin Islands as Coast Guard duty transfers occurred. She graduated from College of the Virgin Islands in 1970 and taught in the island schools. After living in Boston and Los Angeles, where Elizabeth was born, the family moved to Mill Valley in 1975 and settled down.
Leslie was deeply creative. She enjoyed drawing and painting. She was a UC Master Gardener, and she loved nurturing her beautiful garden. Leslie was a skilled sewist who created handmade treasures–especially for the beloved babies in her life.
Leslie was a traveler and planned wonderful adventures, including many sailing and ski trips with friends and family. Leslie was generous and enjoyed bringing people together in her home. She was the hostess of fantastic parties and loved making nourishing meals to share with others. A cook who knew how to choose recipes that did not take any last minute prep, Leslie enjoyed her parties immensely and made large gatherings appear effortless.
Leslie was a dedicated leader and board member during the early years of Marin Horizon School. She was also devoted to her work with Youth in Arts, especially the Italian Street Painting Festival.
A loyal friend, wife, mother and grandmother, Leslie treasured time with her loved ones. Leslie will be missed by her husband, Will; her daughter Elizabeth Cholas and son-in-law Aman Cholas; granddaughters Ellie and Lulu Cholas; her brother Tom Allen and his wife Kathy; her brother Steve Allen and his wife Rachel; and many nieces, nephews, cousins, and a close circle of dear friends. Donations in her name can be made to the hospice group that supported her in her last months, By the Bay Health.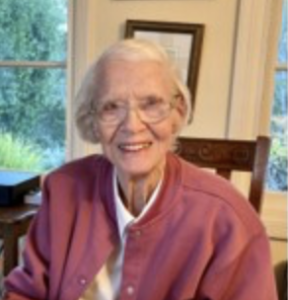 Dorothy Ford Marlin

Dorothy Ford Marlin ("Dee") died at home on October 29, 2022 at the age of 95.

A longtime resident of Mill Valley, Dorothy was born in New Haven, Connecticut on August 9, 1927 to Dorothy Hugo Ford and Frank William Ford. She grew up in White Plains, New York, one of five children. She attended White Plains High School and graduated from Miss Hall's School in Pittsfield, Massachusetts in 1945. She graduated from Vasser College in 1948 after completing an accelerated three-year program that had been established for wartime. After graduation from Vasser, she moved to Mill Valley to live with her sister, Lorraine, and brother-in-law, Ed, and taught at the Bayview School in San Francisco. Ed introduced his best friend, (George) Emery Marlin (known to family as "Tag") to Dorothy, and Dorothy and Tag were married on April 24, 1949 at Our Lady of Mount Carmel Church in Mill Valley. Their wedding reception was held at the Mill Valley Outdoor Art Club. Their first home together was on Hazel Avenue, on the slopes of Mt. Tamalpais; Dorothy taught at Old Mill and Park Schools in Mill Valley until the birth of their daughter Lorraine in 1951. Their daughter Barbara was born in 1953. Dorothy and Tag moved to their home in Tamalpais Woods in 1956, where they raised their family and enjoyed views of Mt. Tamalpais and Richardson Bay. The family's favorite weekend activity was to drive out to Muir Beach and hike along the shore over the rocks, fish for perch, and cook lunch over a campfire.

Dorothy taught at Spring Valley School in San Francisco for 31 years, until her retirement in 1987. Above all, she prized excellence in education. Dorothy loved classical music, especially opera, and enjoyed reminiscing about the opera performances that she had attended at the "Old Met" in New York City, beginning with a performance of Carmen conducted by Sir Thomas Beecham, when she was just 14 years old. After moving to California, she became a regular subscriber to San Francisco Opera, attending performances with Tag and later with her two daughters. She continued to attend the opera regularly until she was in her early 90's. By sheer coincidence (or not), the first SF Opera production that she attended with her daughters, in the early 1960's, was Hansel and Gretel, and the very last production that she attended, accompanied by her daughters, was of that same opera, in the fall of 2019. (Moreover, she was thrilled to attend a performance of Hansel and Gretel in 2004 in which one of her grandsons, as a member of the SF Boys Chorus, sang in the role of one of the gingerbread children.)

After Tag's death in 2012, Dorothy reinvented herself in many ways, creating the perky nickname "Dee". Her intrinsically social and extroverted personality blossomed anew, and she made wonderful new friends who enriched her life immeasurably and brought her great joy in those later years.

Dorothy is survived by her daughter Lorraine Massa, MD and her husband Stephen Massa, MD of Burlingame; daughter Barbara Marlin-Coole of Petaluma; five grandchildren: Sean Marlin Leary, Nicholas Marlin Massa, Felicity Constance Massa, William Arthur Coole, and Luka Elizabeth Coole; and by loving nieces and nephews. Her husband Tag preceded her in death, as did her four siblings: Lorraine Ford Lee, Frank William Ford, Jr.; her fraternal twin Janice Ford Boyle, and Lois Ford Vochoska. She was also preceded in death by her nephew Frank William Ford III and her niece Diana Siemens.

A private ceremony will be held at Fernwood Cemetery and Funeral Home. In lieu of flowers, please consider a donation in Dee's memory to Miss Hall's School, Vasser College, or SF Opera.