In Our Care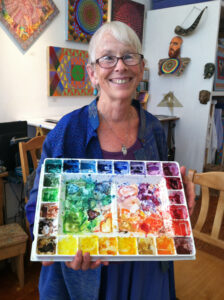 Jennifer Badger Sultan
1941 - 2021
Sunday, November 14, 2021
Jennifer (Jenny) Badger Sultan passed away peacefully in her sleep on October 14, 2021, at home in San Francisco, after a short battle with lymphoma.

Born on February 23, 1941, as Jennifer Hewitt Badger, in Southern California, Jenny formed a lifelong passion for art. Her father, a chemistry professor at Caltech, and mother encouraged Jenny's talents from a young age – as did pioneer art instructor, the Chilean artist, Susana Guevara Mueller. At Pomona College, Jenny studied art and was elected Phi Beta Kappa. She went on to receive her Masters of Fine Arts from Columbia University in 1963. There, suggestions from cultural anthropologist, Margaret Mead, helped Jenny develop ideas about archetypes and the unconscious that had a profound influence on her later work.

After graduation, Jenny moved to the Bay Area, living on $100 per month in Berkeley, painting and making ends meet by designing and silk-screening fabrics. At that time, she realized the most compelling subject matter for her paintings was the inner world of symbols and dreams and became active in the world of visionary art. During this era, she met fellow artist Henry David Sultan, who would become her lifelong partner. Jenny and Henry began teaching together and were married in 1972. Their daughter, Naomi, and son, Leon, were born in 1973 and 1978.

From 1974-2006, Jenny was a popular art instructor at City College of San Francisco, teaching classes in Painting, Drawing, Design and Color. Additionally, she was a 'California Arts Council Artist in the Schools' at New Traditions Elementary School. Jenny and Henry shared studio space, raised their children, and kept working, painting, and exhibiting. Starting in 1998, they embarked on a series of trips (Malta, Nepal, Egypt, Turkey, Spain, and India) which added to the rich cultural and archetypal imagery they found so nourishing. Since 2004 Jenny was a member of the national Society of Layerists in Multimedia (SLMM).

Jenny was a highly sensitive person who listened well, was caring and compassionate, and was very supportive of her friends and family. She will be sorely missed.

Jenny Badger Sultan is survived by a husband of 49 years, Henry David Sultan; a brother Tony Badger and his wife Margaret of Monterey; a daughter Naomi Sultana Young, her husband Joseph Young, and their sons Amos and Solomon of Santa Rosa; a son Leon Sultan, his wife Marisa Rossman, and their children Theodore and Adam of San

Francisco; and many nieces, nephews, cousins, beloved family members, friends, students, and fellow artists.

The family wishes to thank Cecelia Quento and Maria Martinez for providing compassionate care during Jenny's last days.

An outdoor celebration life and art will be held on Sunday, November 14, in San Francisco. To RSVP, contact jennysultanmemorial@gmail.com The family requests that in lieu of flowers, donations be made to Planned Parenthood. They also welcome you to visit http://www.jennybadgersultan.com/ and/or purchase her artwork to discover and share the beauty of Jennifer Badger Sultan's art and vision.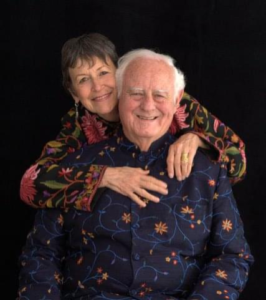 Allan Jackman
1932 - 2021
October 24th, 2021 at 1:00 PM
It is with a heavy heart and great sadness that I would like to inform you that our beloved Allan passed away peacefully on October 20th at 4:00 AM.

Please join us in a celebration of his life on Sunday, October 24th at 1:00 PM at Fernwood Cemetery, 301 Tennessee Valley Road, Mill Valley.

Because of COVID restrictions, we are required to wear masks in the Chapel during the service. With 100% chance of rain forecast, kindly bring rain gear and sturdy shoes due to the muddy conditions in order to visit the gravesite afterwards.

There will be several parking spaces at Fernwood Cemetery while additional spaces will be available across the street at the "Cabin".

After the service, we will continue to share stories of Allan's long life (1932-2021) and his many passions at his home in Tiburon at 25 Geldert Drive.

Please RSVP my daughter, Vanessa at

v_topper@hotmail.com or (707) 695-1306

We will be sitting Shiva on Monday, October 25th and Tuesday, October 26th from 6.30 PM to 8:00 PM at 25 Geldert Drive, Tiburon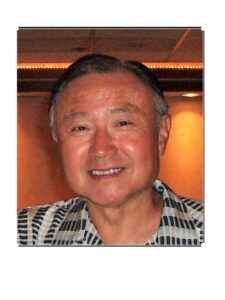 Howard Low
October 10, 1942 ~ October 10, 2021
Howard Jeong Low passed away peacefully on his 79th birthday following complications resulting from heart surgery. He was surrounded by his loving family: wife Dorinne; sons Christian, Ryan (with wife Panner) and Todd; and grandson Santino Low. He also leaves behind his cherished granddaughters Nina and Simone Low; devoted sisters Mary Kong, Anna Low, and Laura Yau; and many loving nieces and nephews.
In 1963 Howard met Dorinne Chu, and they married in 1967. They started their family in the 1970s with the births of Christian, Ryan, and Todd, and in 1971 they moved from San Francisco to Mill Valley. His family was the center of his life. His greatest joy was to celebrate family events and holidays at their Mill Valley home and to spend summers together in Honolulu, a family tradition for the past 25 years. In the late 1990s and early 2000s, Howard and Dorinne were blessed with grandchildren Santino, Nina, and Simone.
In 1964 Howard began as an interior space planner for Bank of America. He was proud to be part of the planning of the Bank's world headquarters on California Street, then the tallest building in San Francisco. In 1974 Howard began work at Bechtel Corporation, remaining at Bechtel until his retirement in 2017. During his four decades of employment, he was the Facilities Group Senior Planner and later became the Groups Manager. Over time his responsibilities expanded to include corporate Aircraft Operations, SF Fleet Operations, and Special Properties Management. During this time, working a full-time job and raising three sons, he managed to receive a degree in Business Administration from St. Mary's College in Moraga.
Howard enjoyed traveling and made several trips over the decades to Europe and Asia. His idea of a perfect end to the day in Europe was to sit at a café with a glass of wine, soaking in the ambience of life going by.
Howard was a tennis enthusiast, a love he shared with his son Ryan. He spent many decades playing weekly at the Scott Valley Tennis Club and more recently at the Harbor Bay Tennis Club. In retirement, Howard became hooked on playing golf. He looked forward to his Friday golf group at McGinnis Park, both for the game, but even more for the camaraderie with the group. He also liked nothing better than to play on Bay Area courses with his two sons, Christian and Todd. Another lifelong passion was cars and racing, and this he shared with all three sons.
Howard was a kind and gracious man with a deep inner strength, a great sense of humor, and a natural refinement. He was his family's compass and heart, a true gentleman and a gentle soul. Rest in peace dearly beloved Howard. Our love is with you always.
There will be a Celebration of Howard's life on November 15th, 2021, at The San Francisco Yacht Club in Belvedere, California, 1 to 4pm. In lieu of flowers a contribution in his name to KQED, the Marin Food Bank, or to a charity of your choice, would be greatly appreciated.
David S. Turpin
March 20, 1938 ~ September 4, 2021
David S. Turpin born 03/20/1938 and passed away 09/04/2021. He grew up in Deferiet, N.Y, graduated from Carthage High School in 1956 and spent 6 years in the Navy retiring as a First Class Petty Officer. He moved to Pacifica, CA and worked for PG&E as an Electrical Distribution Controller retiring in1995 and moved to Cloverdale in 1998.

David was an avid runner competing in marathons in New York, Hawaii and ran the Bay to Breakers in San Francisco. Deep sea fishing was another passion having fished in Peru, Mexico, and Hawaii.

He is survived by a brother, Dennis, his wife, Karen, and their 4 grown children.

In his memory donations may be made to:

Cloverdale Senior Multipurpose Center, 311 N. Main St., Cloverdale, CA 95425, Peninsula Open Space Trust, 222 High St., Palo Alto, CA 94301, or Sonoma Land Trust, 822 5th St., Santa Rosa, CA 95404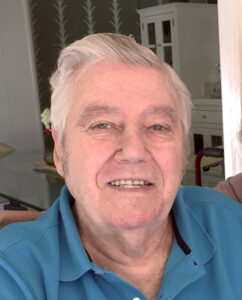 Frank Rosenmayr
Frank Rosenmayr, age 86, of Kentfield, CA, passed away on August 28th, 2021. Frank was born in Denver to parents, Vincent Rosenmayr & Helen (Stark) Rosenmayr. (German & Austrian) He grew up with his older sisters, Rita & Dora. (Dora still resides in the Bay Area.) He was a sought-after wrestling star throughout his education and was honored in the All-American Hall of Fame with his 1955 High School class. He went to the University of Colorado, Boulder, enjoyed being a member of the University "Fiji House" (Phi Gamma Delta) and graduated in 1958 with a BA in Engineering and Business. After college he wrestled for the well-known Olympic Club team in San Francisco. He is honored in the Club's Hall of Fame room in the Post Street location. His wrestling accomplishments include, but not limited to, winning the State and National Championship held in Oklahoma, winning the gold medal in the Pan American Olympic Games and winning 5 National Championships for The Olympic Club in 1958 through 1960.

Living in San Francisco for most of his career and later moving to Marin County, he raised his 4 daughters (Dawn Rosenmayr, Teri Tonne, Britt Rosenmayr & Natasha Trau). He loved his family and taught them to be strong and fearless leaders. Additions to the family were his two son-in-laws, Vince Tonne & Phillip Trau. The Tonnes gave him 3 granddaughters: Bianca, Kemmer & Piper. Britt gave him his only grandson, Jason. Sadly, Jason passed away in 2010. The Traus gave him another granddaughter, Ashley. Frank is survived by many nieces and nephews, living in the Bay Area, Washington, Colorado, Montana and Austria.

Frank retired from his successful residential and commercial building contractor business that he solely owned and ran. Building his home on the Potrero Hill and thriving in the growing market of San Francisco, his business was a huge success. Frank was also a brilliant Real Estate investor and broker, respected by many. He could build a home, with little to no help from other tradesmen, with expertise and zest of individuality. Fearlessly, he was known to walk the framing on a home with no rope, 3 floors up, with perfect balance. His most memorable homes were those he built by hand in Lake Tahoe. From the architectural drawing to physically building every detail...he was a tough "BAD ASS".

Frank was so strong...and fought until his final moment. His legacy and spirit will live on in his family. He is a hero of his time and inspired those in his life to always do their best, to "Look Up", to sit up straight with pride and that it's still cool to be silly. We all believe he is happy in heaven...playing out scenes from his favorite old western shows...with his loved ones who've preceded him in death...galloping a horse, wearing a cowboy hat, swinging his shotgun and chasing bad guys now…

Frank Rosenmayr was loved by many and will be missed by all.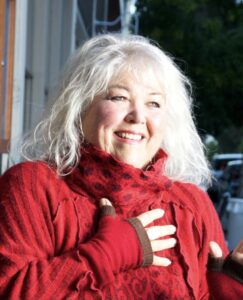 Donna D'Acuti
1943 - August 12, 2021
It is with sadness and sorrow and love that we share with you the passing of a great soul, Donna D'Acuti, who left us and this life on August 12, 2021.

Donna was larger than life in so many ways to so many of us that the loss of her radiance will fall upon those who knew her as a pale shadow over the sun, a shimmering desaturated veil drawn abruptly over our lives. It is very much like an eclipse, abrupt and a bit shocking in the severity of the change, except that the darkness will not pass as an orbital phenomenon of the sun and the moon. This one will stay with us.

Donna was born in Vermont on 1943, to Vincent and Lillian D'Acuti. Her sister, Diane, joined her a few years later. She lived a full life, recreating her life again and again, and bringing together an extended family, a tribe, in each of those various lives. Her first love was nursing. She came to San Francisco after nursing school in Vermont to work as a nurse and she became the head nurse in the Emergency Department at San Francisco General Hospital, or Mission Emergency as it was known back then. Many of us first met her in that roll and she was like a force of nature, herding the medical team members in the direction of honesty and integrity and good patient care. It was during this period that she worked on the film "Towering Inferno" with a short speaking role and recruited a number of medical friends to work as extras as well. She then went on to run the EMS (Emergency Medical Services) office in San Francisco as an Administrator, before moving on to her next professional life in real estate.

She joined the Mill Valley office of Coldwell Banker and established herself as an award winning presence in southern Marin real estate, making friends and connections with the ease and grace that she brought to every encounter. She carried along all of her previous friends from the medical field and we sang her praise as she moved from one thing to the next. She also joined the Rotary Club during that period and stayed active with that group for years.

She decided, at her 60th birthday party, that she wanted to sing. The band that played for that outrageous bash was hired on the condition that they let her have turn at the microphone. She was terrific as a vocalist and as a presence on the stage and the praise from that night led her to launch herself into the local music scene starting with the Crossroads program. She continued to work with members of that same band for years as well as gigging with other groups and eventually pulling together a group of her own, with whom she regularly sang. She also sat in with other bands and generally became an easily recognizable and well loved vocalist in the local music venues.

Her attraction to art, which had started with photography back in her nursing days, blossomed as she learned Chinese brush painting and sold her art and set up her websites and developed a similar extended family in the art field. She began to teach Chinese brush painting, displayed her art at the Morning Sun Studio, and was a regular at the Red Umbrella art shows in the city. She connected personally with many artists and was a nurturing presence to all.

As one of her long standing medical friends observed, she made friends easily everywhere and did not seem to make enemies. Those who met her universally liked her. She was interested in every person she met and always had something good to say about each of them. She often mused that she went to the Red Umbrella art events to meet the San Francisco tourists and locals and to talk with them as much as she did to sell her own art work.

She was a bit larger than life, our Donna, and we all feel a bit possessive about her. We will miss her dearly.

She leaves behind a loving sister, Diane, in Washington state, a daughter, Angela Downs, Angela's husband, Mike, and three grandchildren, Zoe, Bella and Luke, whom she loved to distraction and who loved their "Nona" to the moon. She leaves behind many friends of all descriptions and all walks of life.

Loved ones dreamed of her the night of her passing, one seeing her singing her heart out to a familiar but unknown melody, dressed all in purple, surrounded by a crowd of adoring fans, her hair an angelic silver halo. She left us in style in that dream. May she find joy and music and art and camaraderie and friends, old and new, in the place to which she has gone. May all of us who knew her have the blessing of seeing her once again somewhere down the line.

There will be a party to celebrate her life once this covid business settles down and we hope that all of you who knew her and moved through her universe will come to celebrate the blessings which she shared so liberally the world. Bon voyage, Donna, bon voyage. We love you.